iPhone 8 and 8 Plus: Wireless charging, Portrait Lighting, and five more features you'll want
Don't call them retro.
If the super-spendy iPhone X is more than you want to pay for a phone, Apple is also offering updates to the smaller iPhones, called the iPhone 8 and 8 Plus. They still have the Home button and body bezels, they still use Touch ID instead of Face ID, and the LCD screen sizes are the same that you're used to. But don't call them retro.
The 4.7-inch iPhone 8 goes on sale Friday, September 22 for $699 for 64GB, with a 256GB option too. And the 5.5-inch 7s Plus will start at $799 for 64GB, with a 256GB option. You can preorder these phones on Friday, September 15.
iPhone 8: Like the iPhone 7, but different
The iPhone 8 and 8 Plus have the same body size and shape as the previous generation. But instead of keeping the aluminum back, these new iPhones have a glass back that might remind you of the classic iPhone 4 design.
Uh-oh, that's double the surfaces that could break if you drop it! Yes, it's true, but Phil Schiller claimed it's the most durable glass ever used in a smartphone. Plus, a glass back also enables inductive charging, which also comes to the flagship iPhone X. The iPhone 8 and 8 Plus will support existing Qi inductive charging accessories for the home, office, and car. Phil Schiller pointed out on stage that some cars, restaurants, and even furniture already have Qi charging integrated, and Apple will offer Qi products in its retail stores.
Don't worry, the iPhone 8 and 8 Plus still have a Lightning port for tethered charging and syncing, and using all the same Lightning headphones and accessories you already have. (No headphone jack, though—the iPhone SE is still the only device in the iPhone lineup that has one.)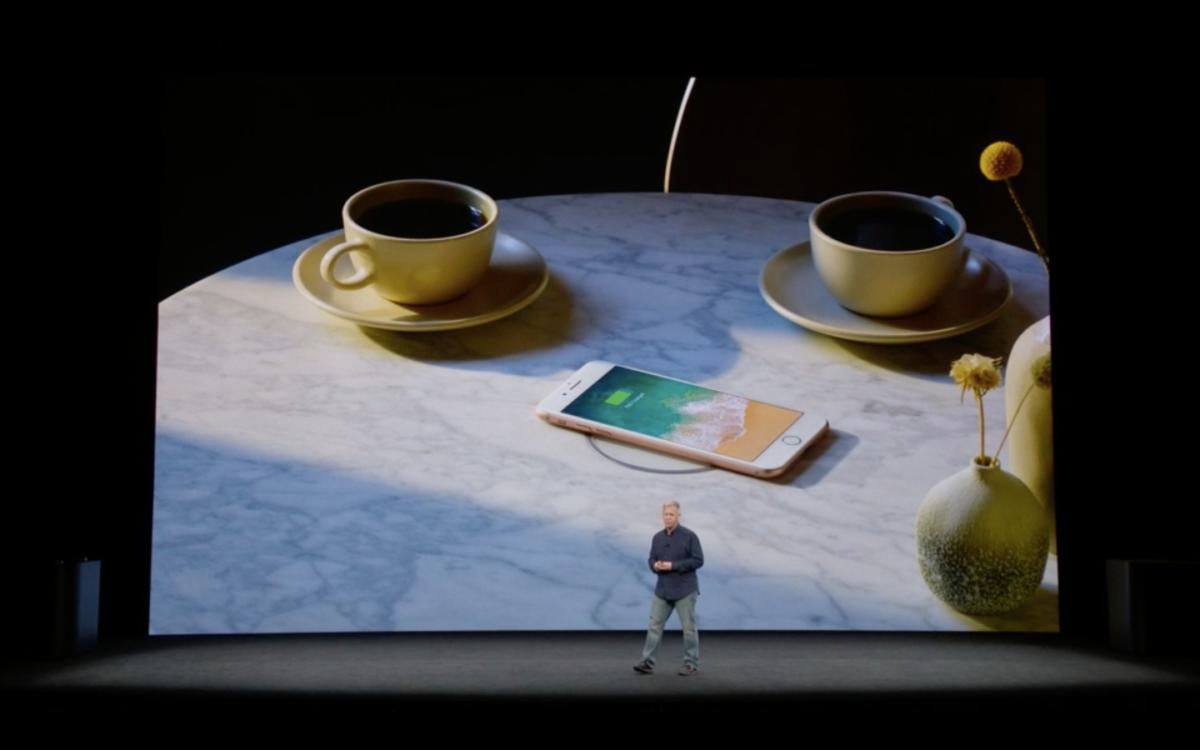 Apple
Inductive charging is already used in the Apple Watch, and it's being marketed as "wireless charging," but the friendly pedants among us will note that the charger itself still has a wire. But dropping your phone on a "wireless" charger is still easier and more convenient than having to plug in a cable.
iPhone 8: Featuring three colors and a TrueTone Retina display
The iPhone 8 and 8 Plus come in silver, space gray, and a beautiful bronze finish Phil Schiller just called "gold." As in the previous generation, the front bezels on the gold and silver models are white, while the space gray model has a black front.