Ubiquiti Labs Amplifi HD Wi-Fi router review: There are better Wi-Fi systems for your Mac
It's an interesting take on mesh networking topology, but there are faster solutions in this price range.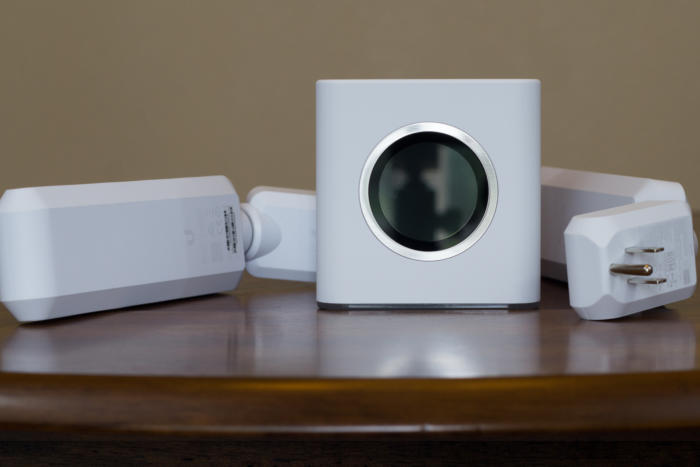 Note: This review is based on the performance of the Amplifi HD with Mac clients. If you'd like to read a version with analysis based on performance with Windows clients, follow this link.
Ubiquiti Labs is a relatively new player in the consumer router market, but it's no babe in the woods. It's a division of Ubiquiti Networks, a well-regarded manufacturer of enterprise and service-provider networking solutions, and an early player in the mesh-networking market. The company announced its first consumer product back in May 2016, but the model reviewed here is significantly better than that one.
The Amplifi HD Mesh WiFi System (US$349) is the latest router designed to earn placement out in the open, versus being hidden in the closet. It consists of a dual-band 802.11ac router that comes pre-paired with two 802.11ac mesh nodes (Ubiquiti calls them "meshpoints"). The router is an attractive 4-inch cube with a circular (2 inches in diameter) color LCD touchscreen on its face, and a gigabit WAN port and four-port gigabit switch in the back. There's also a USB port on the back, but it's currently dormant (the company says it has future plans for the port, but didn't provide any hints as to what those might be). There's a white LED around the bottom border of the router, but you can dim its brightness—or turn it off altogether—if you don't like the effect. There's also a night mode setting that will turn the LED and the LCD off automatically.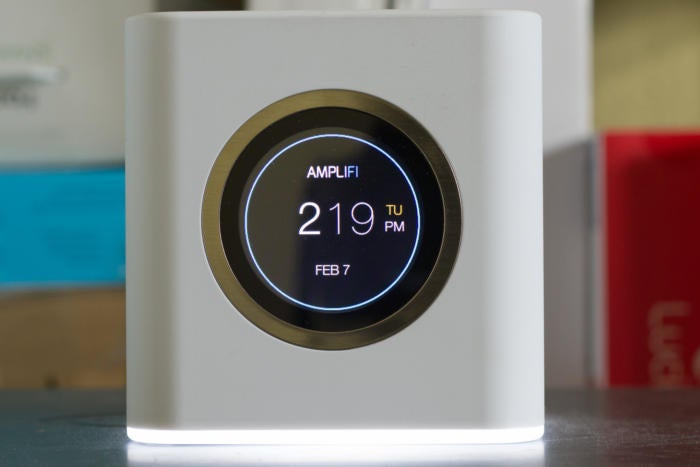 The Ubiquiti Amplifi HD has a helpful touchscreen display embedded in its face.
Is it worthy?
We'll put this review's conclusion here, for those who just want to know our bottom-line opinion of the Amplifi HD. If you want to know the ins and outs as to why we think this way, there are oodles of performance charts and an in-depth discussion of this router's features and capabilities further down.
This is a good time to be in the market for a new Wi-Fi router because there are so many good products to choose from. Is Ubiquiti's Amplifi one of them? On the upside, it's very attractive and—perhaps more importantly—it has a four-port switch. It's easy to set up and its companion app is very easy to use. The mesh network it builds provides good coverage with three nodes—in fact, two nodes would probably be sufficient to cover my 2800-square-foot home. Amplifi HD is attractive from a cost perspective, with a three-node system priced at US$50 less than Netgear's hub-and-satellite offering and $150 less than a three-node Linksys Velop.