Your next company computer may be a 2-in-1 laptop
While consumers and businesses are walking away from tablets, 2-in-1 laptops are finding their way into corporations in a big way; sales are expected to grow by more than 21% a year over the next four years.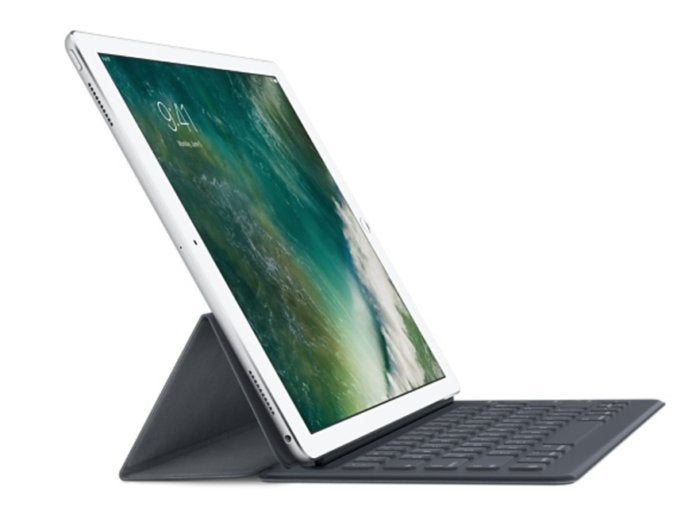 Credit: Apple
While consumer adoption of tablets is decreasing, business adoption is going the other way, powered by corporate fondness for Apple's iPad Pro and 2-in-1 devices running Windows.
The number of consumer-owned tablets is expected to decline about 3.3% annually even as the number of business-owned tablets grows at a combined annual growth rate of 6.9% by 2022, according to Forrester Research.
Global mobile device usage is expected to reach more than 5.5 billion users by 2022, almost double the total number of users (2.8 billion) in 2008, according a Forrester report released last week.
Large-screen smartphones are contributing to the decline in tablet sales among consumers, while the diverse use cases for a 2-in-1s is driving that segment's growth, Forrester stated.
Of the 5.5 billion mobile device users in 2022, smartphone owners will make up almost 70% of the market.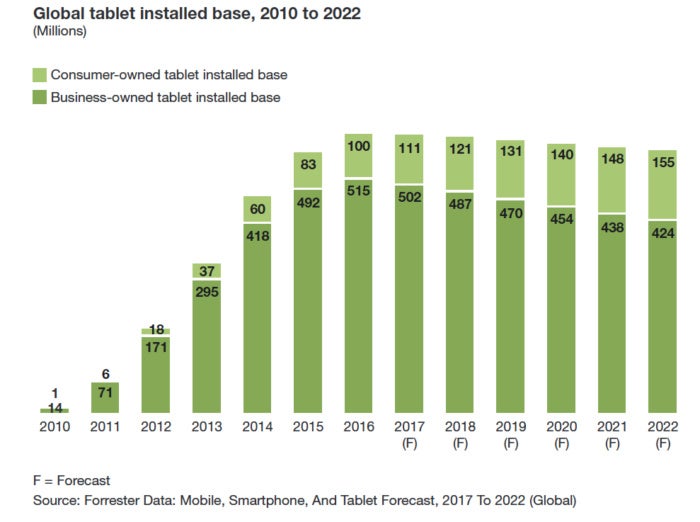 Forrester
Nearly 94% of smartphones use either Android or iOS. Android is the dominant OS for smartphones, capturing 73% of the market with more than 1.8 billion users in 2016. Android is expected to maintain that lead, according to Forrester.
The Forrester growth forecast includes detachable tablets such as the Microsoft Surface and iPad Pro but excludes convertibles like the Lenovo Yoga.
In another report, convertible 2-in-1s are taking off with business users, growing at 46% worldwide year-over-year. That's according to IDC's Worldwide 2017 Q1 Personal Computing Device Tracker.
Over the next four years, detachables are expected to grow at 21.2% CAGR, IDC said.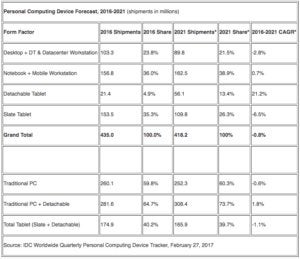 IDC. Click on table to enlarge
At the same time, basic tablets that aren't used as laptop substitutes are seeing a decline in business adoption. Slate tablets, according to IDC, are expected to see a decrease of 6.5% in CAGR while notebooks and mobile workstations will only increase by 0.7% through 2021.
Helping to drive the momentum are new 2-in-1 models with larger screens, such as the new iPad Pro, which has either a 10.5-in. or 12.9-in. screen and is offered with a detachable keyboard, and the Dell Latitude 5000 2-in-1 (with a 12-in. screen) and the Latitude 7000 (with a 13-in. screen).
"Commercial PCs are seeing a real renaissance in design, with form-factors like the 2-in-1 that we could only dream about just a few years ago now becoming reality," said Bob O'Donnell, president and chief analyst at TECHnalysis Research. "Dell's innovations in the 2-in-1 category, ranging from detachables to 360-degree hinge, are rooted in productivity while providing the flexibility and beautiful design that today's mobile workforce desires."