iOS 11: September 19 is the release date for Apple's iPhone and iPad operating system
Learn all about the upcoming iOS 11, including its release date, top features, and biggest changes from iOS 10.
iOS 11 is the next generation of Apple's operating system for iPhones and iPads. Apple CEO Tim Cook and friends gave us a full overview of iOS 11 during Apple's Worldwide Developers Conference keynote back in June, and now we're days away from its official launch. New features include sweeping new upgrades to Siri, a redesigned Control Center and App Store, and a brand-new Apple Pay feature that lets you send or receive money to your contacts via iMessage.
In addition, developers can now create apps that tap into your iOS device's potential to create augmented reality experiences via the new ARKit. Plus, there are new productivity features for the iPad, including drag-and-drop capability and a new Mac-style Dock.
Here's everything we know so far about iOS 11, plus a bunch of the new features that we can't wait to try.
Editors' note: We've updated this story to include information about the iOS 11 ship date.
What iOS devices will it run on?
The following iPhones:
iPhone X
iPhone 8/Plus
iPhone 7/Plus
iPhone 6s/Plus
iPhone 6/Plus
iPhone SE
iPhone 5s
The following iPads:
iPad Pro (12.9-inch, 10.5-inch, and 9.7-inch)
iPad Air
iPad Air 2
iPad (5th generation)
iPad mini 2/3/4
Plus, the iPod Touch (6th generation)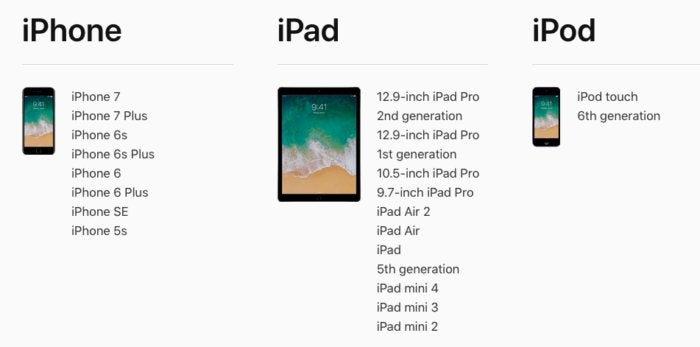 Apple
When will it be available?
At Apple's iPhone X event, the company announced that iOS 11 will be available on September 19, 2017.
Can I test the iOS 11 public beta?
Yes, Apple released the first public beta on Monday, June 26—and anyone can give it a whirl (at their own risk). Here's everything you need to know about how to safely install the iOS 11 public beta.
Just remember that this is a beta version of the new software, so make sure you backup your iOS device before venturing into this unknown territory. Better yet, we recommend installing the public beta profile on a secondary iOS device (if you have one) so that you can test it without fear that it will screw something up.
What's the latest beta version available now?
On Wednesday, September 6, Apple released the ninth public beta of iOS 11 to people enrolled in the Apple Beta Software Program. Meanwhile, developers are currently testing the tenth developer beta of iOS 11. Changes in the new developer beta include Siri, Apple Pay, and Photos enhancements.
What's new with Siri?
The first new thing you'll notice about Siri in iOS 11 is her more-natural sounding voice. However, she also looks a little different: Apple has given its voice assistant a new visual interface that surfaces multiple results for your requests, as well as followup questions. In addition, Siri can now translate phrases for you, from English to Chinese, French, German, Italian, and Spanish. This feature is in beta, and Apple will add more languages in the months to come.