6 steps for setting up a server room for your small business
Are you worried about relying on a third-party online service provider to store your business data? Learn how to set up your own server room for an on-premises deployment instead.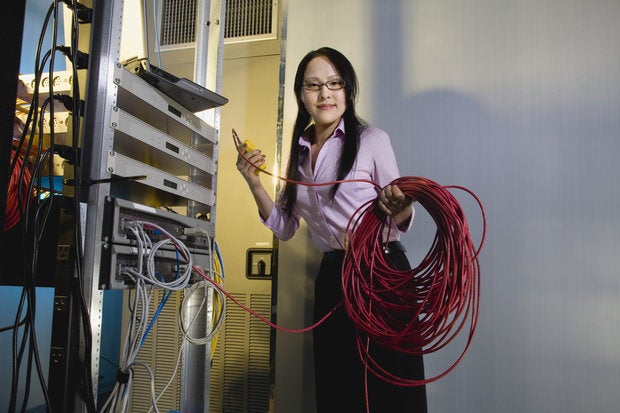 NOTE: This story was originally published in September 2013 and updated in April 2017.
Bringing IT in-house and setting up dedicated on-premises servers can be intimidating for a small business, especially given the recent focus on online services. Moreover, resources designed to help tend to assume a medium-sized or enterprise installation, which may not necessarily work well for setting up a small server room or even a closet for a branch office.
With some understanding of the basics, though, setting up your own server room for your small business network need not be an arcane process. Here are some tips for getting started.
Rack-mount equipment makes sense
It's not uncommon for small businesses to begin operation by stacking server hardware and network appliances on a desk or shelf. Though such a deployment is inexpensive, the pile of equipment invariably expands into an unmanageable mess with the growth of the company. Exposed equipment is also completely open to physical tampering and is a ticking time bomb for accidents such as coffee spills, dust or even workers tripping over wires.
However, rack-mount equipment is designed specifically to properly house this type of hardware. While these tend to be pricier than their non-rack-mount equivalents, it's arguable that being easier to manage far exceeds the cost premium. In addition, shelves and drawers designed for mounting onto the server rack are widely available; these let racks work with non-rack mount appliances as necessary.
There's a server rack for all seasons
Before getting the server rack, it's good to first understand its basic characteristics. Server racks are measured in terms of rack units, usually written as "RU" or simply "U." One rack unit equals 1.75 inches (44.45mm) in high, with compliant equipment measured in multiples of "U." Network switches are generally 1U to 2U, servers can range from 1U to 4U and blade servers can be anywhere from 5U to 10U or more.
Consider, too, the width and depth of the server rack, which is generally accepted to be 19 inches for the former and 600mm to 1,000mm for the latter. Some server racks come with adjustable rear brackets, though most rack mount servers come with adjustable mounting kit that can be used as long as there's sufficient depth for the server.
The most common commodity server rack today is probably the four-post rack designed to hold servers and appliances 19 inches wide. A typical full-height rack measures 42U; half-height equates to 24U. Other options exist, including desktop variants that range from 5U to 20U. (These measurements don't pertain to the external dimension of the rack; that varies depending on design.) Optional caster wheels can be handy for limited mobility.